My fellow affiliate and friend Jenn from Books at Midnight has come back from her hiatus (cue the joyous shrieking and confetti).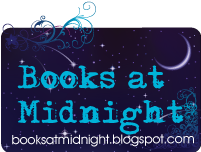 Seeing her name pop up in my blogger dashboard was an exciting moment, I have to say. xD She's also hosting a giveaway where there will be two winners-one international and the other from the U.S.-so head on over there if you want a chance at
winning some awesome titles
.
ALSO. I already mentioned this book before but....
"Drawing readers into a world where the past holds secrets that can offer salvation or destruction, with spirits haunting every nook and cranny, Mary Lindsey crafts a tale that is frightening, beautiful, and wonderfully memorable." --Andrea Cremer, New York Times bestselling author of NIGHTSHADE


Lenzi hears voices. She also sees visions--gravestones, floods, a gorgeous guy with steel gray eyes. She knows she must be going crazy, just like her dad did. Her boyfriend, Zak, can't do anything to help, and the voices just keep getting louder, the visions more intense. But when Lenzi meets Alden, the boy from her dreams, everything makes sense.

Sort of.

He tells Lenzi that she's a reincarnated Speaker--someone who can talk to lost souls and help them move on--and that he has been her Protector for centuries. But instead of embracing her abilities, Lenzi struggles between her life as the girlfriend of a sexy musician and the life she is destined to lead with Alden. Yet time is running out; a malevolent spirit has been trying to destroy Lenzi for ages, and he will surely kill her if she doesn't make a decision soon.

Her choices are clear: Destiny or normalcy. Alden or Zak. Life or death.
....it didn't have an official synopsis until now. Nor did it have a blurb from Andrea Cremer, author of Nightshade (which I loved, by the way.) (Oh, and I'm Team Ren if anyone cares to know. Shay's cool and all but Ren=♥)